"Everything You Must Know About Choosing An IT Company…
But Your IT Guy Will Never Tell You!"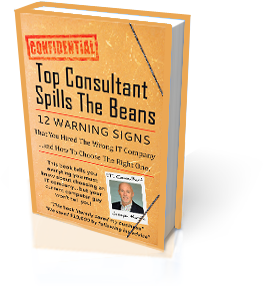 Don't hire ANY computer consultant until you read this book…
This book is the ultimate guide for CEOs, Executives, and business owners trying to find a professional, competent, honest, considerate, on-time, fairly-priced and dependable computer consultant
This book will explain in simple, non-technical terms what you need to look for when outsourcing your IT support, as well as cost-saving strategies, insider tips and 21 revealing questions you MUST ask any computer consultant before giving him access to your computer network. If your current guy can't answer a confident "Yes" to all 21 of these questions, it might be time to look for someone else.
You'll discover:
The 5 types of technical support available, and the pros and cons of each.
How to avoid getting ripped off, disappointed, and paying for sub-standard work.
12 Warning signs that you hired the wrong computer consultant.
Viruses, worms, spyware, and hackers: what you need to know to protect your company from invasion.
Everything you need to know about contract, payment schedules, and rate negotiations.
10 Critical characteristics to look for in a competent computer consultant.
Why you need to avoid "cheap" or "bargain" computer repair shops.
How to turn technology into a competitive advantage instead of a drain on your time, money, and resources.
What "managed services" are and why thousands of business owners are now demanding this type of support from their computer consultant.
. . . and much more!
This is a physical book and will be shipped to you. Please enter your information in the form below.