For Local IT Support in the Greenville, Raleigh, and Wilmington areas . . .
Call Us Today - You'll Be Glad You Did!
Carolina IT Group has one mission …Fast IT Support From Experts You Trust!
"I started this company as a small retail computer business in Greenville, North Carolina in 1995. After a few years in the retail computer world, I changed our focus to providing IT support to local businesses. Since then I made it my company's mission to give our clients lightning fast expert IT support they can trust. Our clients recognized and rewarded our honest, excellent service by telling their friends and business associates about us. And here we are, 20+ years later, still going strong. Technology has changed a lot in 20 years but our commitment has not." We remain focused on giving your business the expert IT service and honest advice it needs to succeed!

Immediate Access to a Live Person

Local Help Desk and On-Site Support

Solutions for All Your Technology Needs

Full Team of Professionals

No Geek Speak

< 5 Min.Response Time
We Wrote The Book On IT Support!
Don't hire ANY computer consultant until you read this book!
This book is the ultimate guide for CEOs, Executives, and business owners trying to find a professional, competent, honest, considerate, on-time, fairly-priced and dependable computer consultant
This book will explain in simple, non-technical terms what you need to look for when outsourcing your IT support, as well as cost-saving strategies, insider tips and 21 revealing questions you MUST ask any computer consultant before giving him access to your computer network. If your current guy can't answer a confident "Yes" to all 21 of these questions, it might be time to look for someone else.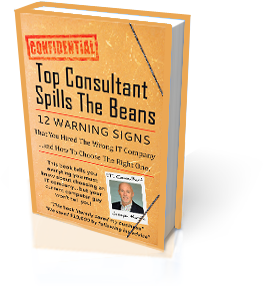 Price: $19.95

Get Your FREE Copy Today
* limited time offer
This is a physical book and will be shipped to you.